WILL for Men Eau De Toilette (Cologne) Spray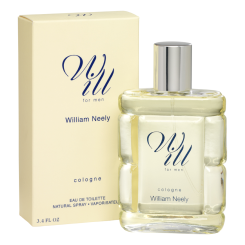 View Large Image
Print Product Listing
Product Description
WILL for men is a New Mens fragrance (Eau De Toilete) (Cologne) Spray. Over four years in the making. It is a sensuous and subtle blend of citrus, floral and woody notes. Evnironmentally friendly and made with purified deionized water containing no irritating salts or minerals for sensitive skin. Elegantly dispensed from a cut crystal bottle made for a masculine hand. If you like Eternity or Aqua Di Gio, you'll absolutely love this. Comes in either a Spray and/or a Splash. Check out our Splash, our Body Moisturizer and After Shave Balm also.
Key Selling Benefits
Made with purified deionized water containing no salts or minerals that might irritate the skin. Subtle and refreshing blends of citrus , florals and soft elegant woods. This is a fresh, clean and exciting mans fragrance. 3.4 oz bottle.
Product Details
Seller Objective: Open to discussing any type of sales arrangement
Patent / IP Status: Copyright/Trademark
Inventory in Stock: In stock and available for sale
Number of Units in Stock: 501 - 1000
Suggested Retail Price: N/A
Wholesale Price: N/A
Estimated Cost/Unit: N/A
Minimum Order/Units: N/A
Prior Sales Activity: In specific boutique stores and our exclusive website. We are active and selling in specific boutiques stores and looking to expand. We are open to new wholesalers, retailers, licensing and/or private labeling, etc. We will consider a partnership with the right individual/s or company/s with marketing influence and/or retail connections and/or stores. We are a participant in the 2012 HBA/IPDA global design awards. We have been featured in Spray Magazine and a Feature article in Happi Magazine. This is a newer established Fragrance Line ready to compete with the big boys and have already tested against two of the best selling and highest grossing Mens fragrances on the market and came out first in nearly every test. We have filled and unfilled stock ready for the market. This can be an excellent opportunity for the right person/s or company/s looking for new products or to add to their existing line.